The Grand Exchange Tax or GE Tax is a fee taken from your profits when you sell items on the GE. Depending on your membership status and which GE you are using, you will be taxed at a different rate. Buying items is not taxed.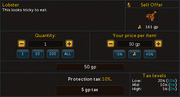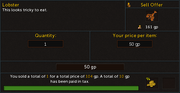 The tax is taken from the seller upon a successful transaction. Canceling a transaction does not incur any tax. The amount of tax a seller pays depends on the seller's membership status (free-to-play or pay-to-play) as well as the threat area the GE is in following the table below:
History
Since the release of DarkScape, most of the trading took place at the Grand Exchange located in the low threat area. On 2 November 2015, the Grand Exchange tax was introduced in order to incentivize people to use the GEs located in higher threat areas.
Community content is available under
CC-BY-SA
unless otherwise noted.